Meet the Man Supporting Cboe Women
Brian Schell was recently recognized by the Security Traders Association Women in Finance for his commitment to gender diversity and inclusivity with the Ken Heath Award. Brian joined his fellow award recipients to discuss the importance of gender diversity in the workplace. As Cboe's Executive Sponsor of Diversity Initiatives, Brian works to support women in finance as he strives to continue Ken's legacy.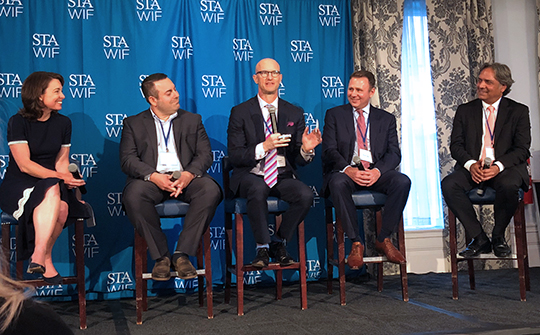 Growing up in a family of accountants, Brian Schell, Cboe's CFO, imagined a life as an accountant, too. His plans were upended after his first college finance class opened his eyes to the excitement and vibrancy of the markets. He promptly changed majors.
Brian has always worked in the financial services industry in a financial role, and admits that diversity (or potential lack thereof) was something he never noticed. When Brian began his career, his entry-level class was split "pretty evenly" between men and women. Throughout his professional life, Brian remembered women being well-represented, including at the FDIC where he was the special assistant to the first-ever FDIC Chairwoman.
"It wasn't something incrementally for me to think about it – gender inclusivity has always been a part of the environment I was in," Brian says. Recently, he realized that in some industries, diversity and inclusivity need to be a priority if they are going to become a reality. Now, as Cboe's executive sponsor of diversity initiatives, Brian is helping bring that priority to the top of the list.
As a man, Brian certainly plans to look to women within the company for insights and advice on the concrete actions Cboe can take to foster inclusivity and diversity on a company-wide level. "I don't want to be the one to define that, I don't necessarily have the right point of view," he says. "I'm informed, but I'll lean heavily on our senior women and others to identify what will really help move us forward."
Brian adds that it's important all leaders, not just men or not just women, know how to support women in the workplace. "I don't think about supporting women any differently than supporting men," he says. "Be open to being a mentor. Check your own biases. Be more proactive in your hiring practices. If you're recruiting new people – are you sourcing to make sure you have the best, most diverse pool you can get?"
As Cboe continues to make diversity and inclusivity a priority, Brian says he's learned that the first step to improving an organization's make up is acknowledging where it's lacking. "The focus should remain on building strong teams and giving people the resources they need to succeed," he says. "Diversity shouldn't be achieved for diversity's sake. It should always be merit based, but it's essential that we have a strong pool of talented people to source from and the right programs in place to elevate those folks and help them rise through the organization."
Brian encourages leaders and people managers to look at their existing team and ensure that they're doing everything in their power to support each team member's growth. "A big part of that is working to avoid bias," he says. Though it may seem novel, it doesn't faze Brian that all of his direct reports are women. "I never even realized it until someone pointed it out," he jokes.
"You get the best people you can, you get a good cultural fit and it should work out well," he says. "You pay people well and you'll get a great team."
Brian has a great working relationship with his team, who are open and willing to provide feedback. He'd like to help others in the organization achieve the same balance and trust with their own teams. "I had a wonderful experience getting to where we are, why not share that with the rest of the organization?"
Brian also notes that studies show the better an organization's inclusivity, the stronger its financial performance. "So why not have your CFO be involved in it?" he jokes.
Brian feels Cboe is on the right path and is looking forward to guiding the company in its endeavors. "I'm excited to be a part of pushing Cboe toward more diversity and inclusivity," he says. "I think we'll be a better organization for it at the end of the day."